Non-reciprocal home exchange:
I am going to the home of someone who will not come to my home
and/or someone is coming to my house but I will not go to theirs
To create the exchange we will use GuestPoints!
Example: Zoé wants to come to my home in Paris but I do not wish to visit her home in Barcelona, I would rather go to London. I host Zoe in my home for 2 nights and earn 100 GP because my home is worth 50 GP/night.
I host Zoe to the best of my ability even though I am not going to her home.
She will give me a rating which is very important to be chosen as a guest or a host (in order to earn more GPs to travel with). With the 100 GuestPoints I received from Zoé, I can go to Peter's home in London for 4 nights (25 GP per night) or two nights in Marie's home (50 GP per night).
GuestPoints are automatically transferred from the guest's account to the host's account when the exchange is finalized. 
To the right of your conversation with the section that includes the details of your exchange, you can view how many GuestPoints you have received (if you are the host) or how many you have given (if you are the guest).
Found below: an exchange where you are a guest for 3 nights, at 100 GP/night, total 300 GPs for the entire exchange.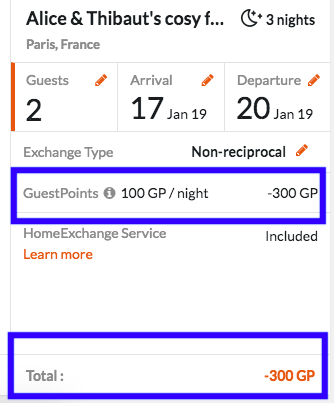 In the details of your GuestPoints, you will be able to see the history of the points that have been added to (if you are the host) or removed from (if you are the guest) your account: 
Example for when you visit another's home:  

Example for when you host someone: