How do I refer my friends?
To invite your friends to join HomeExchange, hoover your mouse over the number of GuestPoints on the top-right corner of the screen:
Click on "Refer your friends" and this will take you to another page:
You will find 3 different ways to invite your friends:
1. Type in your friend's email address and click on "Invite". They will receive an email with a link that will direct them to the HomeExchange SignUp page.
2. Copy and send the link to your friend.
3. You can also share a link to invite friends through social media by clicking on any of the icons.
How many GuestPoints will my friends and I receive when I invite them to join HomeExchange using one of the three options explained above?
You will receive referral GuestPoints for up to 10 friends who decide to sign up via your referral link. After 10 friends, you will not receive any additional GuestPoints, but your friends will continue to receive 250 GuestPoints each!
How do I see if my friends joined HomeExchange?
You can see who of your friends joined with your referral link at any time. To do so, again, hoover your mouse over the number of GuestPoints and this time click on "View all".
On the resulting page, click on "View Details", at the top-right corner of the list. This will take you to another page with all of your GuestPoints' history.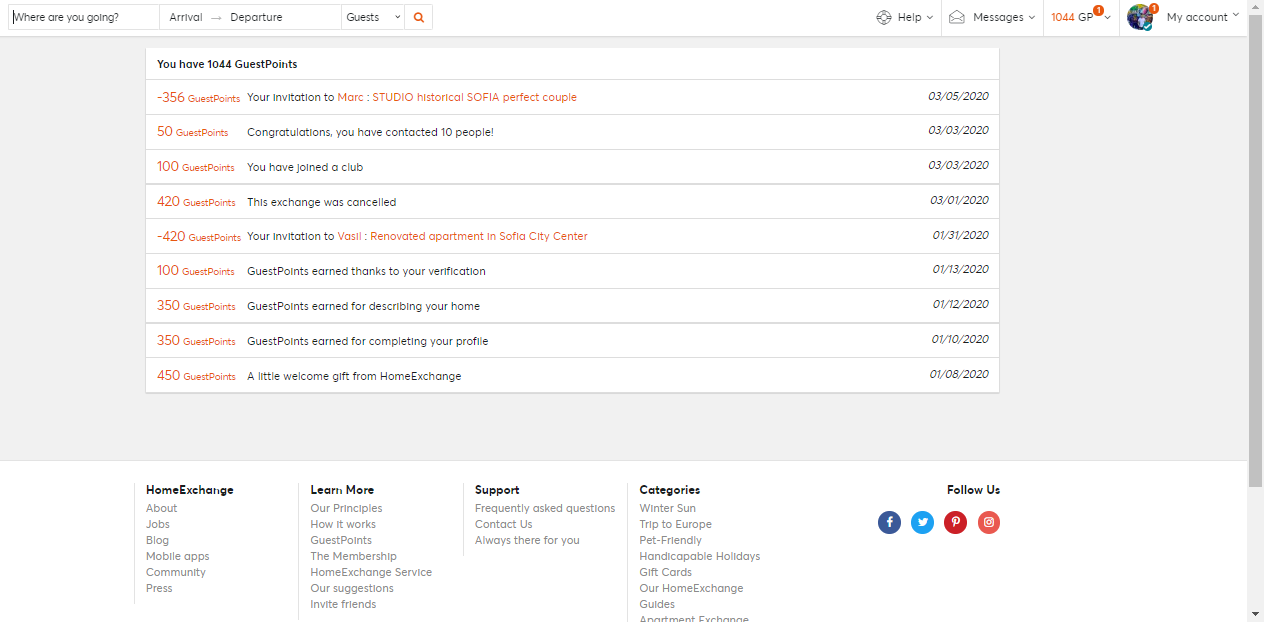 When a friend that you referred completes his profile and listing (to at least 80% each), you will see a notification with 50 GP automatically added to your account.
When they activate their membership, another notification will be added together with an extra 200 GP.
I have invited a friend but I haven't received the GuestPoints you promised. What can I do?
If you haven't received the extra GuestPoints for inviting a friend, it might be that you haven't sent the right link or that your friend hasn't joined HomeExchange using the link you sent them.
You can contact us informing us of the name of your friend and the email address they used to open their HomeExchange account.