After you have posted your home, you can now start searching your favorite destinations to find an exchange.
To start the search, click on "Where are you going?" located in the top left-hand corner of the screen. You will need to specify the destination, dates and the number of guests, then simply click on the "magnifying glass" icon to launch the search.
A screen with the results that match your search criteria will appear.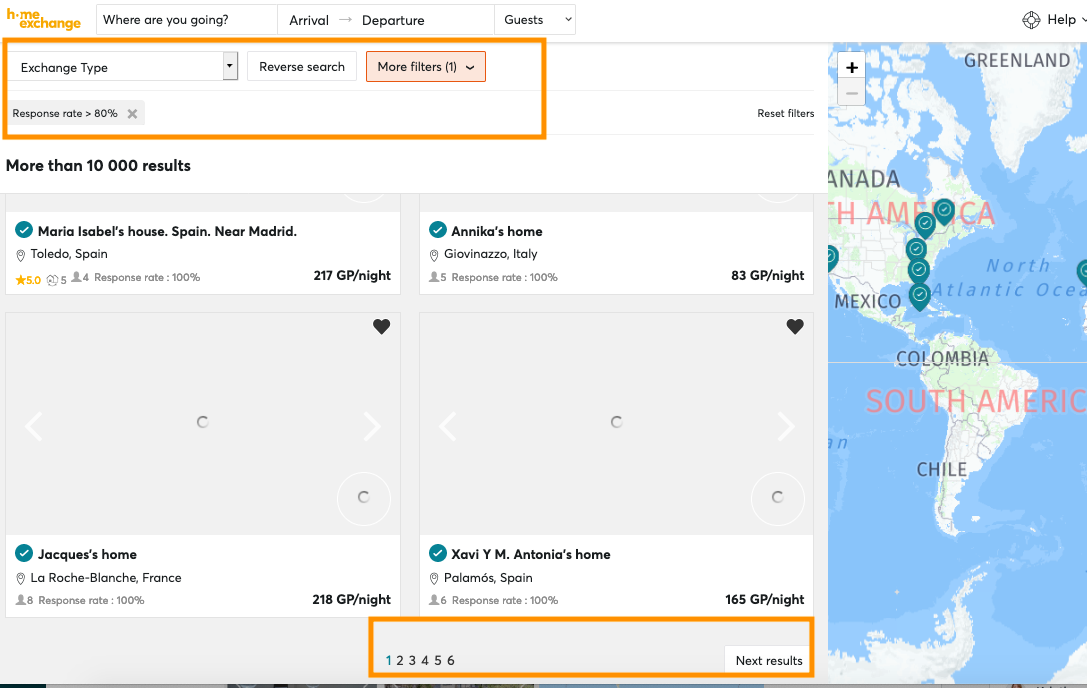 For some destinations we will have plenty of homes that match your search criteria. To see more results, you can click on "Next results" at the bottom of the page. 
You can also use the map to find a home based on its location:
On the right-hand side of the screen on the results page, you will see a map. You can zoom in or zoom out on the map and move in different directions to see all the houses available for a particular destination.
Each home is shown with a landmark: if it is green with a white tick in the centre, this means that this is a verified member and with available dates. 
When you roll your mouse over one of the results to the left of the map, the pin for that home on the map will turn red so you can see its location. 
Small tip: Specifying the dates is very important since the results shown to you are homes that are available on those specific dates. You can also refine your results by using the available filters: "more filters".
Click on a result and find out more:
By clicking on any result, you will be able to see the full description of the listing. The property description will open in a new tab/page, so you won't need to go back and launch the search again, as the results page will remain open in a separate window.