Has a member tried to rent their place to you, or have they explicitly advertised this in their profile description?
Has a member asked you for a check as a deposit?
Is a member acting strangely?

You can report a member to our team and we will take care of the situation.
How can I do it?
* Through the conversation with that particular member:
In the top right hand corner of the conversation you will see "...", click here and select "Report an abuse" from the drop-down menu.
* Through their listing/profile:
When you click on their posting, on the right hand side of the screen you will see the option "Report an abuse" under the profile photo.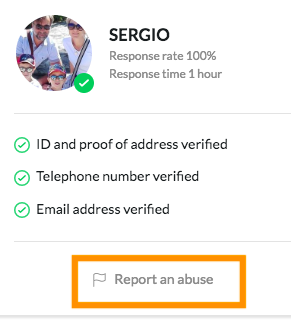 When you click on this option, a pop-up window will appear and you can choose which type of inappropriate action you want to report. You can also leave a message for us - the idea is to keep building a community based on trust :).