Every home on HomeExchange has a value of GuestPoints per night (GP/night). To see your home's GuestPoint amount, please click on the "My Home" tab at the right hand top of the page:
Once on the listing page, scroll down to the GuestPoints section. You will see the amount of GuestPoints set for your home according to the information added to the listing.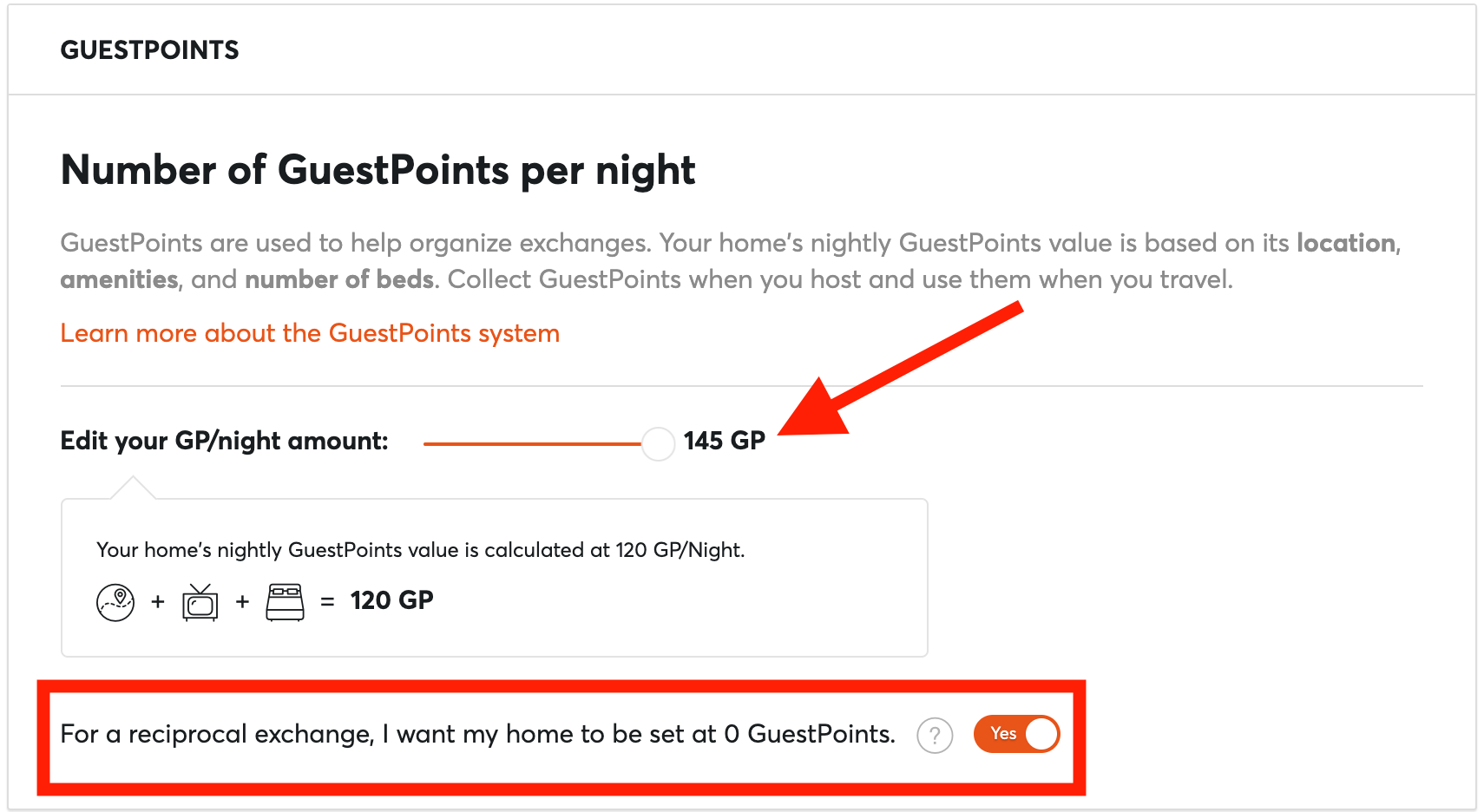 How is your home's GuestPoint value calculated? 
The amount of GuestPoints per night of your home is calculated automatically by our algorithm: This calculation takes into account various factors such as the number of beds in the home, the location of the accommodation, and the extra amenities included.
This is why it is very important to add all the amenities and bed types as they can make the difference in the amount. 
Each of these three criteria (number of beds, location and amenities) will give your home a certain number of GuestPoints. But to increase the chances for our members to find an exchange, we have set up a limit to a maximum number of GuestPoints each feature can bring.
Yes, you can modify the number of GuestPoints attributed to your home by using the slider next to "Edit your GP/night amount" (see below). Slide to the left to decrease the number of guestpoints and slide to the right to increase the number of guestpoints. Note that our algorithm sets a recommended value for your home and that you will only be able to increase this value to a maximum of + 30 GP. 
If you prefer to do your reciprocal exchanges without any GuestPoints, you can mark the "For a reciprocal exchange, I want my home to be set at 0 GuestPoints." as YES.
Yes, you can change the number of GuestPoints per night of your home for specific exchanges. This is done directly in your personal conversations with your guests. You must notify and agree with your exchange partner before changing the value.
If you are interested in how other members see your listing and the amount of your home's GuestPoints, click on "View the listing" either on the top right corner of the screen or in the box on the left with your home's information. 
On your listing, this is where members will be able to see your home's GuestPoints per night: 
*Small tip: if you have more than 1 listing, you will not see the "My Home" tab but the addresses of your different homes.