Every home on HomeExchange has a value of GuestPoints per night (GP/night) calculated by our algorithm.  
To see your home's GuestPoints amount, please click on the Profile button at the right hand top of the page. From the drop down menu choose "My home" *:  
Once on the listing page, scroll down to the GuestPoints section. You will see the amount of GuestPoints set for your home according to the information added to the listing.

You can modify the number of your GuestPoints by swiping the button to the left if you want to show less or to the right if you want to show more GP/night (but not more then 30 GPs).
If you prefer to do reciprocal exchanges without any GuestPoints, you can mark the "For a reciprocal exchange, I want my home to be set at 0 GuestPoints." as YES.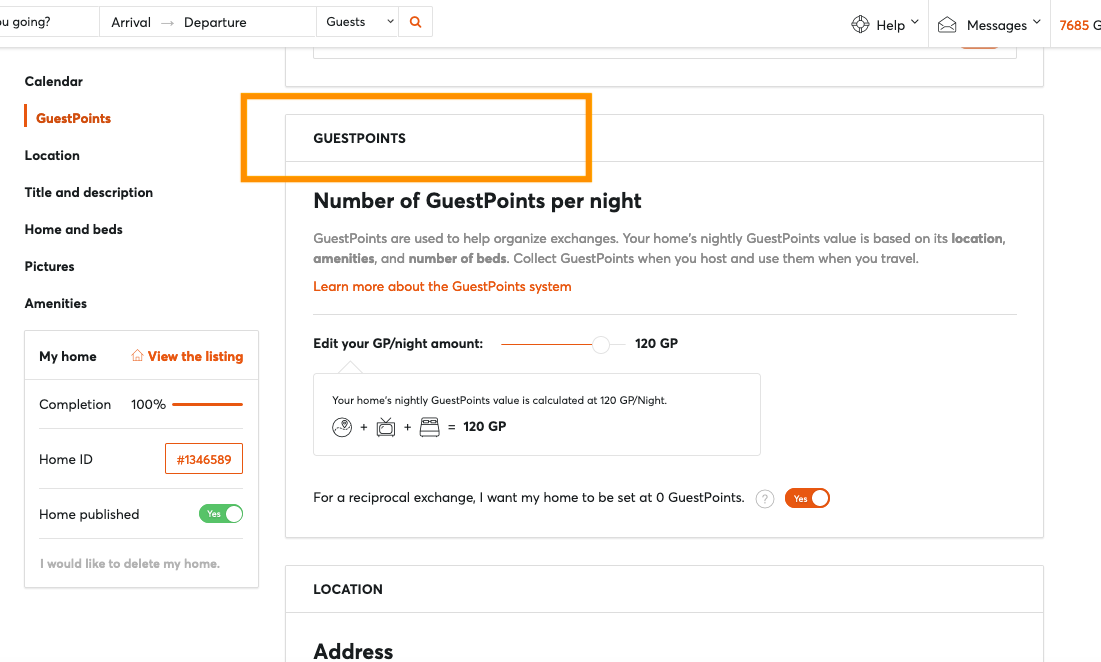 If you are interested how other members see your listing and the amount of your GuestPoints, click on the "View Listing " on the left hand side of the page.
In line with the listing title, they will see your GPs/night: 
*Small tip: if you have more then 1 listing, you will not see the "My Home" but the address of your homes: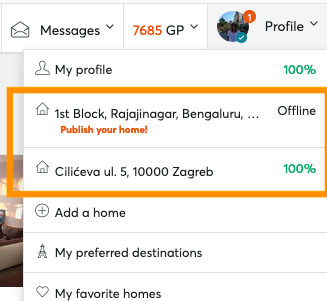 How is this value calculated? 
The amount of GuestPoints per night of your home is calculated automatically by HomeExchange: This calculation takes into account a variety of different things including the number of beds in the home, the location of the accommodation and the extra amenities included in your listing. 
This is why it is very important to add all the amenities and bed types as they can make the difference in the amount.  
Is it possible to change this value? 
This number of GuestPoints can be modified up to 30GP more than the value calculated by HomeExchange. But we do not recommend that you modify the automatic value of GuestPoints per night of your home. It is important that your home is neither undervalued nor "overvalued" in order to efficiently attract guests, to finalize your exchanges with ease, and to be honest in regards to your guests in order to receive positive ratings.
Can I change the value of my home for a particular exchange?  
Yes. You can change the number of GuestPoints per night of your home for specific exchanges without the modified value being seen by the rest of the members on HomeExchange.
This can be done directly in the messaging system, in your personal conversations with your guests.