To verify your listing and home's address you need to have your listing and profile completed at 100% and provide documents that prove you are the owner of "real" home. 
Following documents are required to complete the verification process:
- an identity document (scan or clear photo of your ID, drivers licence or passport),
- a proof of residence (a link to a listing in the yellow pages, a scan of a bill that is no older than 6 months, a rental contract, etc.)
You can upload these documents on the website and send them to us.
To do so, please go to the My Home page (Profile --> My Home) and on the left hand side, click on the "Verify your home" button. 
On the resulting page, scroll down and click on the "Upload ID" to choose your ID. A window will open from where you can choose the photo or document showing your ID. Click on the photo/document to upload it and repeat the process for the proof of address by clicking on the "Upload proof of address" . 
Once both documents are uploaded, click on the orange "upload documents" button to send them to us. On the resulting page, you will see a notification that the upload is done and we will be in touch with you within 48h: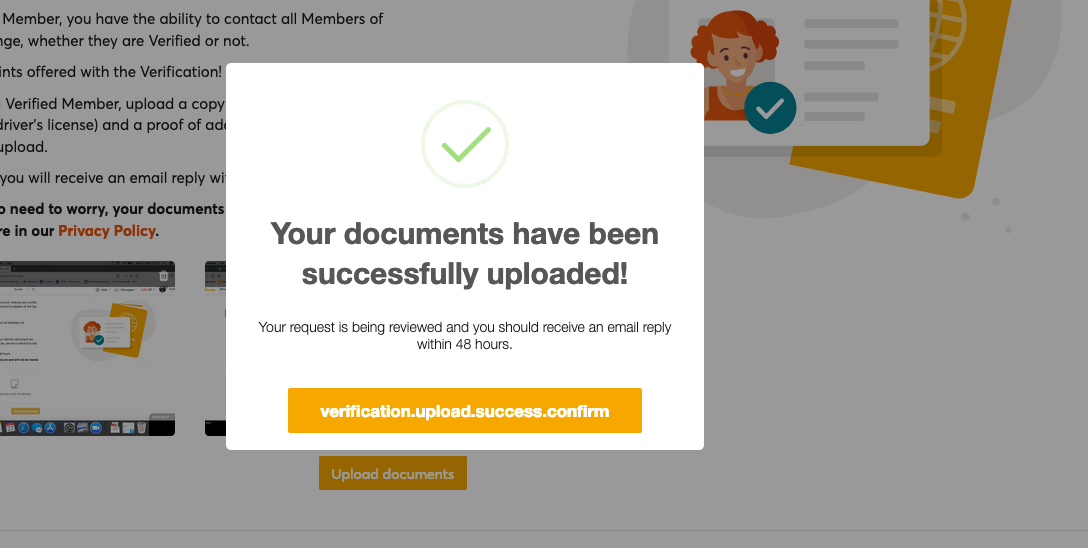 Click on the orange button to finish the process and return to the dashboard page. 
When you choose to verify your additional listings, you will only need to upload the proof of address as the proof of ID was uploaded when you verified your 1st listing. 
Supported document types to upload are: .jpg, .png, .pdf, .doc, .xsl.
Or if you prefer, you can also email them to us or send them by mail to: 
A l'attention d'Alice Lorenz 
HomeExchange
45 rue de Chabrol 
75010 PARIS 
It is also possible to organise a Skype call to finalise the verification.